Canada is one of the most popular destinations in the world for people looking for better opportunities in life. Around a quarter-million people immigrate to Canada each year as Canadian permanent residents and are authorized to live, study and work in Canada for an unlimited length of time, as well as receive free basic healthcare and other great advantages.
 One of the many benefits of being issued a Permanent Resident (PR) Visa to Canada is the option to become a Canadian citizen, once the eligibility requirements have been satisfied.
In order to become a Canadian citizen, a permanent resident must live in Canada at least four years (1,460 days) during the six years prior to applying for Canadian citizenship, including spending at least 183 days in Canada during each of those four years.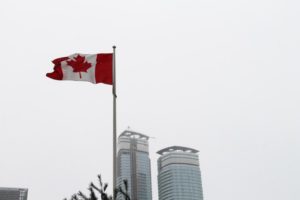 The applicant for Canadian citizenship must also be at least 18-years-old (parents will apply for any child under the age of 18) and be in compliance with their Canadian permanent resident status, including filing income taxes and not committing certain crimes.
Another requirement to become a Canadian citizen is to demonstrate satisfactory knowledge of English or French – the two official languages of Canada (the criteria may vary, depending on one's age).
Furthermore, all applicants for Canadian citizenship ages 14-64 must take a "citizenship test" to show that they have a basic knowledge of Canada's history, institutions, values and symbols, as well as the rights and responsibilities of Canadian citizens (a free study guide is available to prepare for the test).
During the application process to become a Canadian citizen, the permanent resident must indicate an intention to live in Canada.
There is also a governmental fee that must be paid to apply for Canadian citizenship.
A notice will be sent informing the applicant if he/she is approved for Canadian citizenship and the time and place for the citizenship ceremony (normally held within six months of the approval date).
The last requirement to become a Canadian citizen is to attend a special citizenship ceremony, take the oath for new citizens of Canada and receive one's official certificate of Canadian citizenship.
Two business days after becoming a new citizen of Canada, a person can apply for a Canadian passport or other services.
This is a brief overview, of course, so if you want to learn more, contact Become A Canadian.