A three-year immigration plan set by the Canadian government aims to compensate for the lack of newcomers due to the pandemic. The goal is to allow 401,000 new permanent residents to relocate to Canada in 2021, 411,000 in 2022, and 421,000 in 2023. This increase of close to 50,000 annually will compensate for 2020 levels and help reach the immigration goal of about one percent of the population in Canada.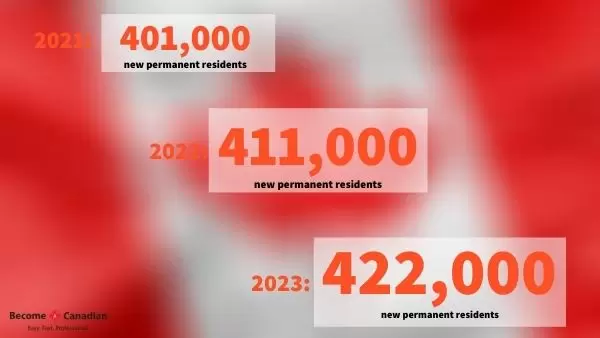 Last year's goal was to allow over one million immigrants in a three-year time frame, but the pandemic crisis and travel restrictions slowed the process substantially. If you are considering immigration to Canada, contact BecomeACanadian. They will answer any questions you have about the process.
Immigration Minister Marco Mendicino said the government is committed to welcoming new immigrants as a way to keep Canada's economy growing. He said he is aware of the need for newcomers to drive the population higher and maintain a healthy economy. Mendicino said to put it simply, Canada is in need of more skilled laborers, and the way to achieve it is through immigration. 
He is confident the Canadian government can meet its goals even with the current health crisis. Mendicino said they will work around travel restrictions, yet, be aware of safety measures being taken, such as mandatory quarantines. There are many opportunities in Canada for you and your family. Contact BecomeACanadian for help with the immigration process. They will walk you through every stage from start to finish.
Ottawa's general goal for immigration policies is to attract skilled talent in a competitive worldwide market while bringing families together and offering a safe place to those displaced by persecution, disaster, and conflict. The breakdown of this plan will include 232,000 newcomers in the economic class, 103,500 in the family class, 59,500 refugees, and 5,500 admitted for humanitarian and compassionate reasons.
The breakdown of this plan will include:
newcomers in the economic class
Canada is a welcoming country which not only accepts immigrants, but celebrates them. If you and your family want to live in such a friendly country, contact BecomeACanadian. Their team will walk you through the process so you can begin living your dream.